High Quality and Best Price Solar Phone Charger in Taiwan.
GOOGOL COMPANY specializes in researching & producing different types and specifications of
Solar Phone Charger
. And our factory is in Taiwan, with good quality and competitive price, please contact us for more details. We collect all serious abroad demands and offers the best prices and quality.
To find and shop the Solar Phone Charger, you need to know about the highest quality of Solar Phone Charger manufacturer, supplier, wholesaler, distributor from a factory in Taiwan
We have experience to manufacture high quality
Solar Phone Charger
, Our products can meet customers' requirement, expecting large orders. And we also hope to build a long term relationship with our customers.

Solar Phone Charger

Model - AMAZEN-5P

Best Solar Phone Charger for Any Cell Phone or Tablet Quality manufacturer in Taiwan
AMAZEN-5P
High quality solar charger, perfect emergency equipment, great for camping trips or treks trips, 5W high efficiency solar panel foldable solar charger, under strong direct sunlight 1A output fast charging any cell phones, tablet, electronics.
Features:
1. Use free and unlimited sunlight to charge, let you go wherever you want to go.
2. As long as it is used in the sun, you just open it. Lightweight, sturdy and portable, it is super convenient to use!
3. The product is made of high efficiency solar panel durable up to 20 years.
4. Can charge many 5V USB, electronics, such as cell phones (such as HTC, Samsung, Sony, iPhone, etc.), tablet, e-Book, GPS, digital camera, game console, etc...
5. Portable folding, very durable & sturdy! Suitable for outdoor activities!
6.100% made in Taiwan
7. You can use the string to fix it on the backpack.

Product specifications:
1.Product Certificate: CE Certificate
2.Solar panels: high efficiency mono crystalline silicon
3.Appearance material: canvas
4.Solar Module : 5W, 5V, 1A ( 2.5W x 2 pc )
5.USB output: 5V, 1A (max)
6.Size: (open) L*W*H: 30*41*0.3(cm) (close) L*W*H: 30*15*2(cm)
7.Weight: 0.5kg (1.1lb)
8.Product Warranty: 1 year
9.In the patent application, counterfeiting will be investigated!!

Inquire Now

Products List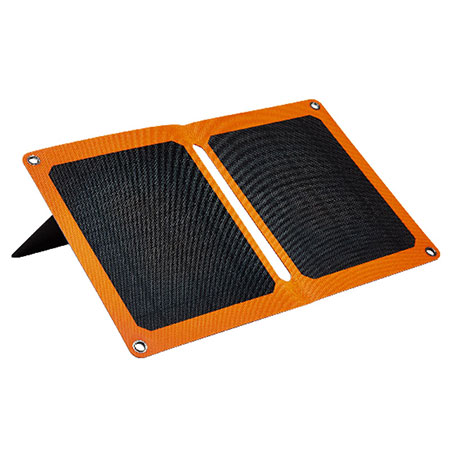 Foldable Solar Panel 9w Quality manufacturer in Taiwan WSF-10P 10W high-efficiency solar panel foldable solar charger, the back of the product has a bracket that can be conveniently placed on a flat surface facing the sun, and the 2A output under strong direct sunlight is Tablets, mobile power banks, cameras and other USB charging electronic devices are charged. And configure a digital display box to confirm the output current. As long as you have this one, you can charge with unlimited solar light! Features: 1. As long as it is used in the sun, you just open it. Lightweight, sturdy and portable, it is super convenient to use! 3. The product is made of high efficiency solar panel durable up to 20 years. 4. It can charge many 5VUSB, tablet computers, mobile power supplies, cameras and other USB charging electronic devices. 5. Portable folding, very durable & sturdy! Suitable for outdoor activities! 6. You can use the string to fix it on the backpack. Product specifications: 1. Solar panels: ETFE high efficiency mono crystalline silicon 3. Appearance material: waterproof polyester 4.Solar Module : 10W, 5V, 2A ( 5W x 2 pc ) 5. USB output: 5V, 2A (max) 6. Size: (open) L*W*H: 24.5x38x0.3 (cm) (close) L*W*H: 19x24.5x0.2 (cm) 7. Weight: 400g 8. Product Warranty: 1 year 9. In the patent application, counterfeiting will be investigated!! Important safety information: 1. Install all sensitive electrical components (including wiring connections, regulator, and battery) inside a weatherproof enclosure to prevent electric shock 2. Do not wire multiple panels in series. If you need to connect two or more solar panels together, this work must be done by a qualified electrician unless they are connected through a regulator 3. This solar panel kit is not designed for tie-in to a grid Only a licensed electrician and a licensed building contractor can safely design and implement a grid tie-in system. Any grid tie-in system must meet all applicable building and electrical codes and must meet standards established by the area power company. Impropergrid tie-in can result in electrocution, fire, and other serious personal injury and property damage. An incorrectly installed grid tie-in system can cause feedback voltage, resulting in electrocution of electrical utility workers 4. Do not apply pressure or press down on the Solar Charger when it is folded 5. Do not focus light on the panel 6. This product may occasionally produce more current and /or voltage than its rated output. Increase output ratings by 25% when determining component required voltage and amperage ratings. Refer to Section 690-8 of the National Electrical Code for an additional multiplying factor of 125 percent (80 percent derating) which may apply 7. Do not attach to battery or power grid without proper regulator, inverter, and/or charge controller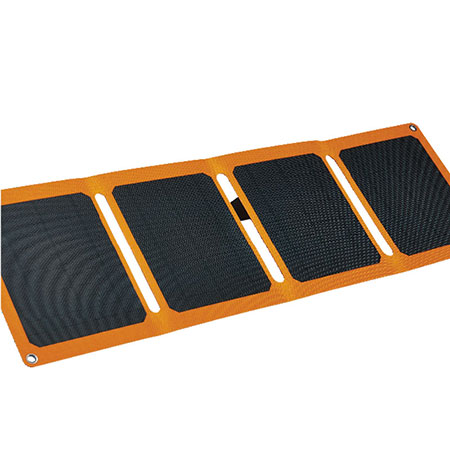 Foldable Solar Panel 20w Quality manufacturer in Taiwan WSF-20P 20W high-efficiency solar panel foldable solar charger, the back of the product has a bracket that can be conveniently placed on a flat surface facing the sun, and the 2A output under strong direct sunlight is Tablets, mobile power banks, cameras, and other USB charging electronic devices are charged. And configure a digital display box to confirm the output current. As long as you have this one, you can charge with unlimited solar light! Features: 1. As long as it is used in the sun, you just open it. Lightweight, sturdy and portable, it is super convenient to use! 2. The product is made of high efficiency solar panel durable up to 20 years. 3. It can charge many 5VUSB, tablet computers, mobile power supplies, cameras and other USB charging electronic devices. 4. Portable folding, very durable & sturdy! Suitable for outdoor activities! 5. You can use the string to fix it on the backpack. Product specifications: 1.Solar panels:ETFE high efficiency mono crystalline silicon 3.Appearance material: waterproof polyester 4.Solar Module : 20W, 5V, 2A ( 5W x 4 pc ) 5.USB output: 5V, 2.4A (max) 6.Size: (open) L*W*H: 24.5x75x0.3 (cm) (close) L*W*H: 19x24.5x1 (cm) 7.Weight: 400g 8.Product Warranty: 1 year 9.In the patent application, counterfeiting will be investigated!! Important safety information: 1. Install and use according to applicable National Electrical Code (NEC) standards 2. Verify that the installation surface has no hidden utility lines before drilling or driving screws 3. Install only according to these instructions Improper installation can create hazards 4. Wear ANSI-approved safety goggles and heavy-duty work gloves during installation Do not wear jewelry or metal watches when working near solar panels, wiring, or batteries 5. Keep installation area clean and well lit 6. Keep out of reach of children 7. Keep bystanders out of the area during installation 8. Do not install when tired or when under the influence of drugs or medication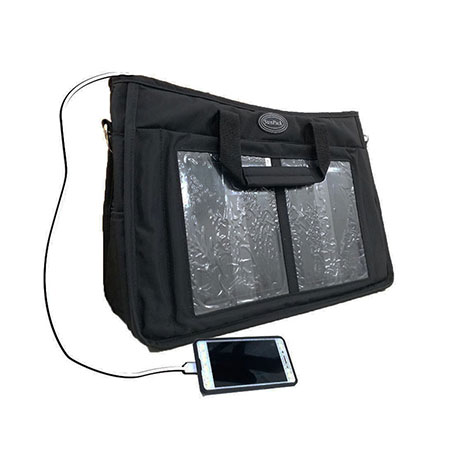 Solar Briefcase Solar Charging Bag Solar Backpack Solar Chargers Quality manufacturer in Taiwan AMAZEN-5P The use of a solar briefcase will never fall into a no-power situation! This model can convert light energy into electrical energy and store it in a power bank, which can be used to charge any series of mobile phones, power banks, and other personal electronic devices. In fact, this solar charger that can be used worldwide will give you a new perspective to maintain the global ecosystem and change your charging habits. Recharge when you use it: No matter where you need to charge it quickly, it's easy to carry and use. The design combines solar panels and briefcases. It can absorb sunlight, transfer it to a mobile power bank, and then send it to your mobile phone and other devices to directly supply electricity. It can be used as a fashionable handbag and briefcase. It is a sturdy, beautiful, and lightweight briefcase Features: Portable charger that can charge any series of mobile phones and other electronic devices. About 2~4 hours can fill a mobile phone (the length of time varies according to the sunshine)! It is made of water-repellent nylon, with a strong structure, light weight and easy portability. The inner bag of the bag, including a flat bag and three small inner bags, are filled with anti-collision foam to protect the laptop 3C products and other small devices. Solar panels with high-efficiency solar cells can be used for more than 20 years. The mobile power rechargeable lithium battery can be charged through home electricity and solar energy. Protection: Overcharge/discharge, short circuit, overload, overheating. Specifications: Solar panel: high-efficiency solar chip, 5W, 6V Bag material: water repellent, made of nylon cloth, Android adapter cable Volume & Weight: Length*Width*Height 34.5*31*2cm, 0.5 kg Color: black Certification: CE certification Warranty period: 1 year