Monocrystalline Solar Panels Manufacturers, Suppliers-Googol Company.
We have engaged in developing, supplying, and manufacturing of
Monocrystalline Solar Panels
together. In addition to our existing products, we also accept customized orders for completion. Our Monocrystalline Photovoltaic Panels have been going well throughout the domestic market and oversea countries. Therefore, we keep forging ahead and continue to innovate constantly. We wish to establish long-term worldwide business relationships. If you are interested in any of our solar modules, please do not hesitate to
contact us
.
To shop high quality Monocrystalline Solar Panelsin the best price. Things you need to know about Monocrystalline Solar Panels from a company, manufacturer, supplier, and factory in Taiwan
Our
Monocrystalline Solar Panels
have been widely accepted by customers from all over the world. Guarantee to our customers the best level of service offering capability, punctuality and quality bring lots of praise from our clients and win international markets.

Monocrystalline Solar Panels

Model - WS10-170G6M

Monocrystalline Solar Panels 20w, 50w, 100w, 150w Quality manufacturer in Taiwan

WS10-170G6M

FEATURE:

Googol company uses 6-inch high-efficiency monocrystalline solar cells and designs bypass diodes to reduce the power drop caused by shading. It chooses to use low-iron and high-transmittance tempered glass, EVA, Tedlar backplane, and anodized aluminum Frame to make high-quality solar panels, customized solar panels are available. The output power is guaranteed for at least 90% for 10 years; at least 80% for 25 years, and the product is guaranteed for 5 years.

APPLICATIONS:
Solar telecommunication
Solar street lights
Solar traffic signs
Portable solar systems
Solar water pumping/solar irrigation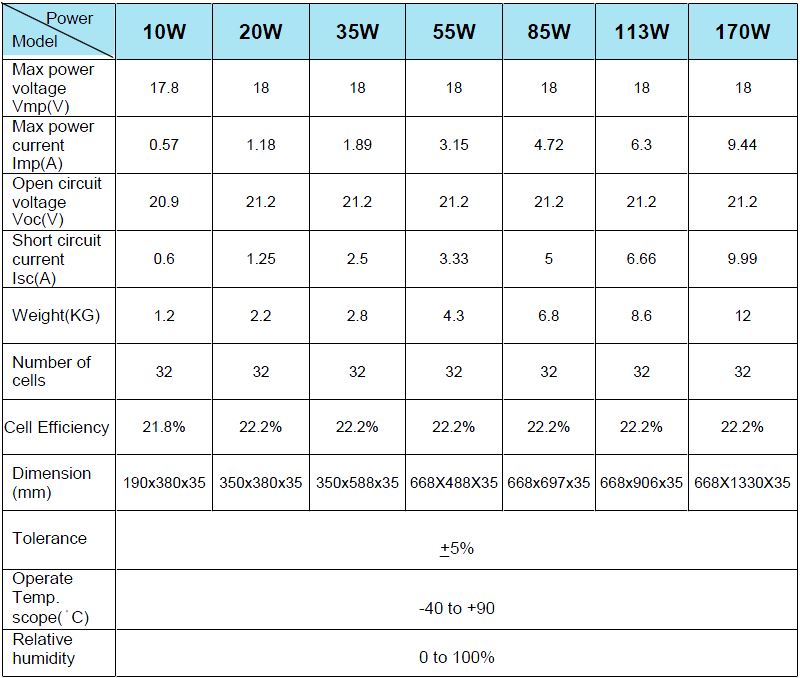 Enquiry Now
Products List