Flexible Solar Kit Manufacturer, Supplier-Googol Company.
We are a technical Taiwan
Flexible Solar Kit
manufacturer, factory, supplier and exporter. Depending on stable investment, superior competence and good after-sale service, we have made us as one of the leading manufacturers and exporters in the industry. We promise quality products and competitive price and on-time delivery for you. We have been establishing long-term business with our customers. If you are interested in any model of our products, please be free to
contact us
.
To find and shop the Flexible Solar Kit, you need to know about the highest quality of Flexible Solar Kit manufacturer, supplier, wholesaler and distributor from a factory in Taiwan
Our mission is to gain a sustainable competitive advantage by providing our customers with the highest quality
Flexible Solar Kit
. We really hope to expand our business through cooperation with individuals and companies from around the world.

Flexible Solar Kit

Model - FS-120K

Solar Panel Kits 42000mAh Most Efficient Flexible solar panels 120W Quality manufacturer in Taiwan
FS-120K
Most Efficient Flexible Solar Panels 120W
solar panel efficiency 20.4% ~ 25% much higher than that of amorphous silicon 12%
Features:
1. Light weight, easy to carry (no aluminum frame, no glass)。
2. Allow to step on.
3. Thickness only 3mm.
Solar Panel Kits
Solar Panel Kits with 120W Most Efficient flexible solar panels, 42000mAh lithium battery, can be quickly charged by solar energy and can be used in power outages or outdoor activities. 9V~12.6V 10A DC output can be used for bulbs and fans or other small 9V~12.6V 10A DC appliances, 110/220V AC output can be used to charge small household appliances.
˙Lithium battery: 3.7V 42000 mAh (146 WH)
˙5V/6.2A USB output * 4 ports
˙9V~12.6V 10A DC output * 1 port
˙110/220V AC output (continuous 250W, peak 500W)
˙LED battery status indicator lights
˙working temperature -20℃~60℃
˙Solar charging time 6 hrs
˙AC charging time 6~7 hrs (AC adaptor included)
˙safefy protection designs
˙3W LED lamp set included
˙Product warranty 1 year
˙CE certified

Enquiry Now

Products List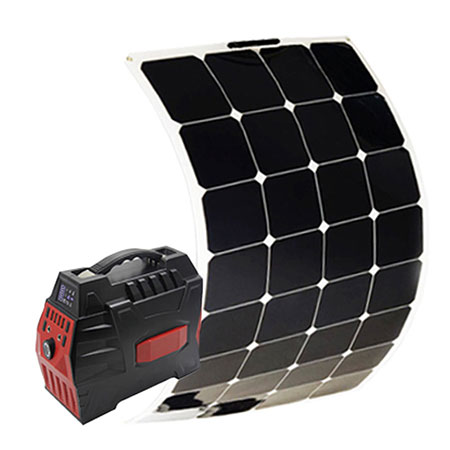 Solar Panel Kits 88000mAh Most Efficient Flexible solar panels 120W Quality manufacturer in Taiwan FS-120K Most Efficient Flexible Solar Panels Thin, 3mm thick, not afraid of stepping, simple installation, no drilling, weather resistance -40 ~ 80 °C, anti-sea salt damage, Wide range of applications: solar cars, Tesla solar cars, solar boats, solar canopy, Portable Solar Charger, Golf Cart, Rescue Charging, Solar Roof, carport , truck, Trailer, camper, rv, Greenhouse. solar panel efficiency 20.4% ~ 25% much higher than that of amorphous silicon 12% Features: A.light weight, easy to carry (no aluminum frame,no glass)。 B.allow to step on. C.thickness only 3mm. Solar Panel Kits Solar Panel Kits with 120W Most Efficient flexible solar panels, 88000mAh lithium battery, can be quickly charged by solar energy, and can be used in power outage or outdoor activities. Solar Kits has USB rechargeable any mobile phone, tablet or electronic devices, 12V~16V 10A DC output can be used for bulbs and fans or other small 12V~16V 10A DC appliances, 110/220V AC output can be used to charge small household appliances. ˙Lithium battery: 3.7V / 88000mAh (325WH) ˙5V/2.4A USB output * 4 ports ˙12V~16V 10A DC output * 1 port(cigarette lighter) ˙110/220V AC output * 2 sockets (AC 500W~ 1000W) ˙LCD battery indicator and status panel ˙working temperature -20℃~60℃ ˙Solar charging time 6 hrs ˙AC charging time 6~7 hrs (AC adaptor included) ˙Safety protection designs ˙CE certified ˙Product warranty 1 year